Antibiotic Selective Treatment System based on quarter level Petrifilm™ 
results at dry-off
From research project : Selective Dry-off Treatment based on quarter level using on-farm diagnosis.
Jean-Philippe Roy (Principal investigator, UMontréal), Fidèle Kabera (Ph.D. candidate, UMontréal),


Greg Keefe (collaborator, UPEI) and Simon Dufour (collaborator, UMontréal)
Herd Selection Criteria
• SCC < 250,000 cells/ml in bulk tank milk
Cow Selection Criteria
Dry-off duration: 45 – 75 days
Currently pregnant and in good shape
No antimicrobial treatment during the last 14 days before dry-off
The day before drying off, collect a sterile sample of milk per quarter
Milk culture per quarter on a Petrifilm AC
Petrifilm identification for each quartier

Dilution 1:10 of the quarter milk sample

Petrifilm inoculation for each quarter
Petrifilm Interpretation
0 – 4 colonies : non-infected quarter

≥ 5 colonies : infected quarter
Apply dry-off treatment to quarter accordingly to Petrifilm results
0 – 4 colonies : use internal teat sealant only in that quarter

≥ 5 colonies : use antibiotic treatment and internal teat sealant in that quarter
Syringes 3ml, 10ml and 1 1/2 in. needles
70% alcohol soaked gauze pad
Repeat the same steps for the four quarters of the cow (a Petrifilm plate for each quarter).
INOCULATE EACH PETRIFILMTM PLATE AND SPREAD THE SAMPLE ON CIRCULAR AREA BEFORE GOING NEXT
SAMPLING, DILUTION AND INOCULATION MUST BE MADE WITH PRECAUTION AND STERILITY
Do not touch the inside of the tube and the cap with the syringe or fingers or remove the cap on the table when handling.
Change the syringe and needle for each quarter.
Disinfect the cap of the sterile water bottle each time the sample is taken.
After opening, write the date on the bottle and keep it in the fridge for a maximum of one month.
Petrifilm AC inoculation protocole
(Test for the counting of the total aerobic flora)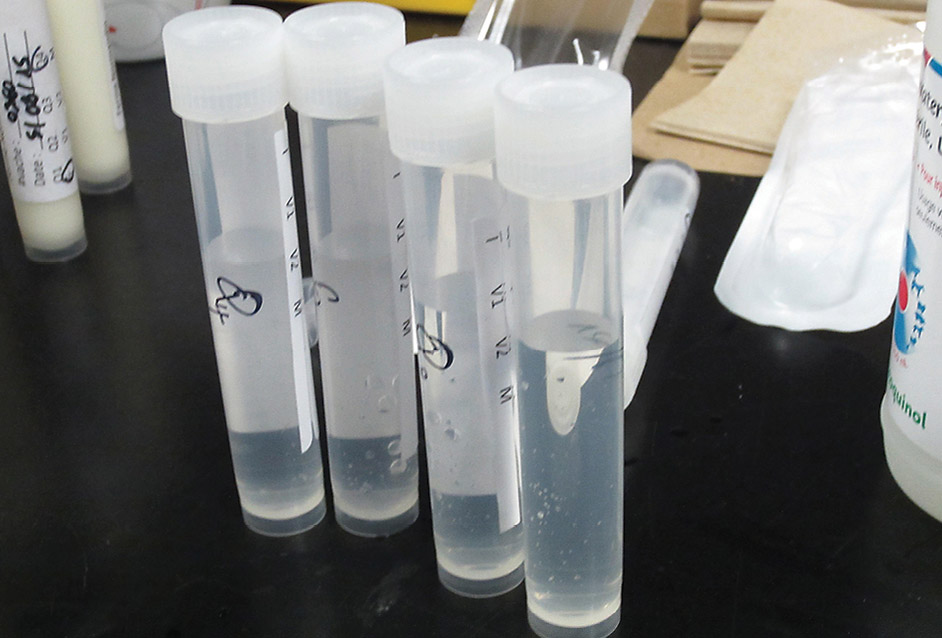 Take 9 ml of sterile water and put in a sterile tube. Do not touch the inside of the tube and cap with the syringe or fingers.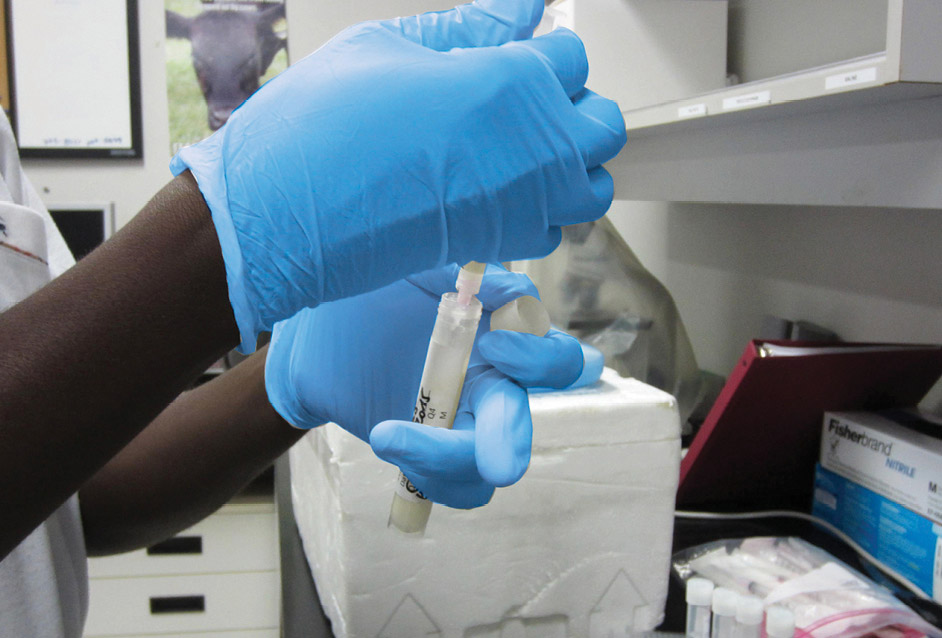 Take 1 ml of the milk sample.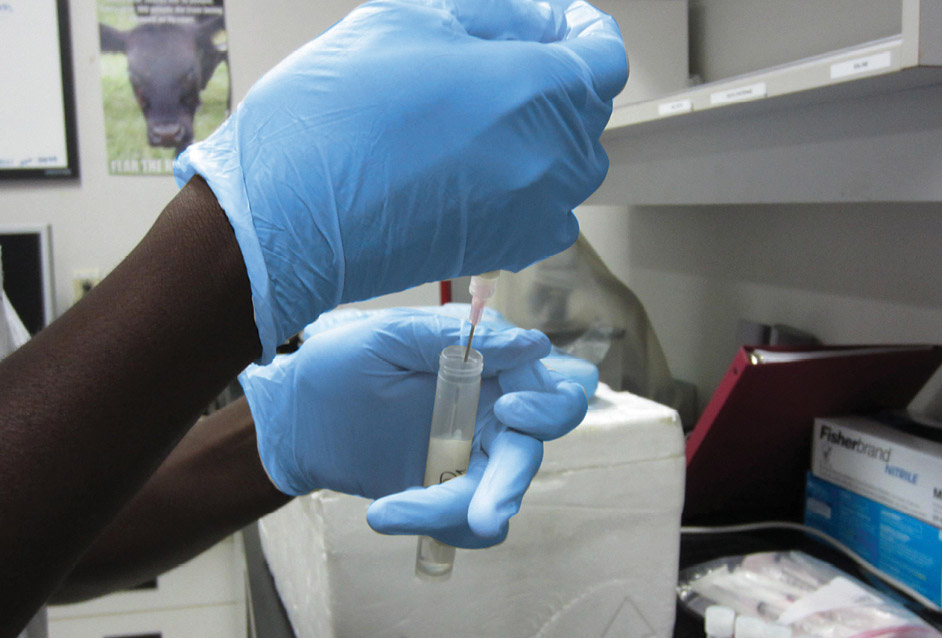 Put 1 ml of milk in a tube containing 9 ml of sterile water (dilution 1:10).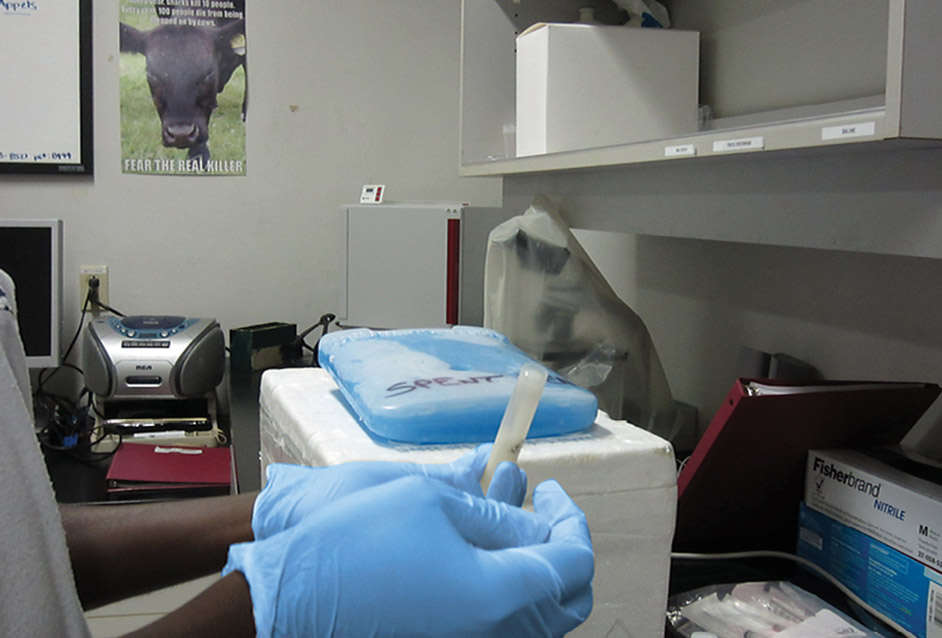 Homogenize: Close the tube and shake the diluted milk tube by flipping it up and down at least 5 times.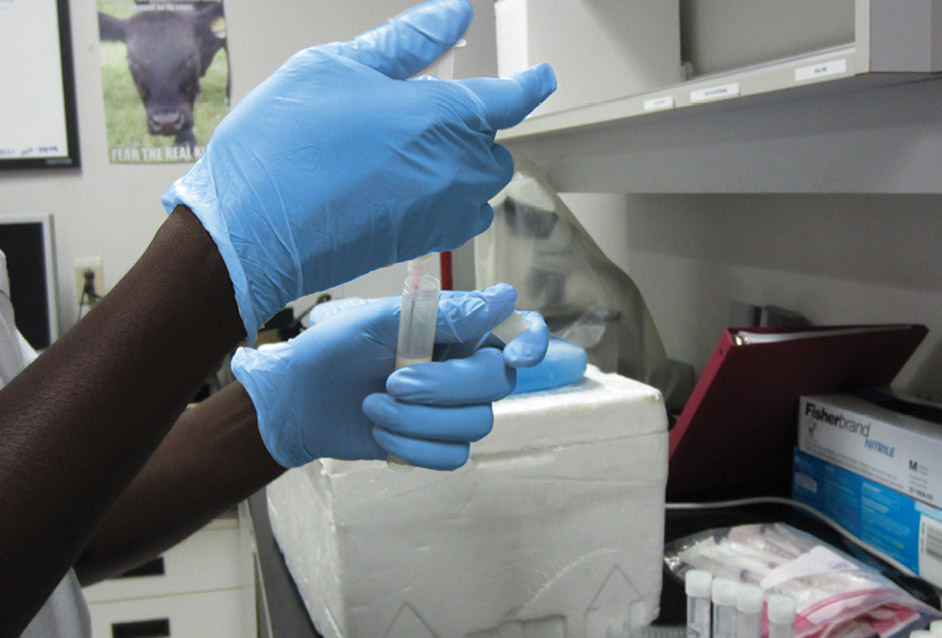 Take 1 ml of diluted milk using the syringe used previously. Aspirate and return the diluted milk once, to rinse the syringe.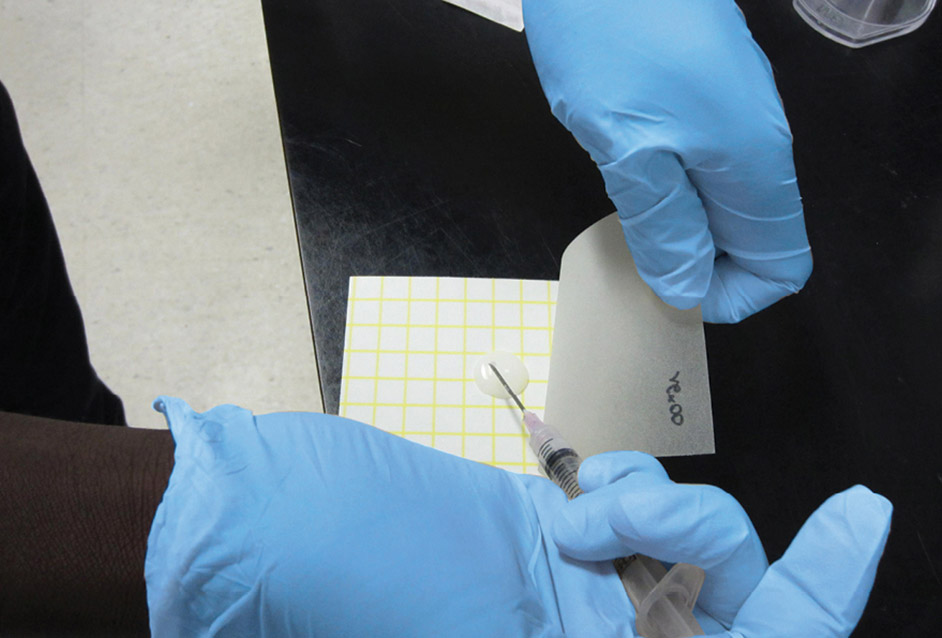 Place the previously identified Petrifilm plate (cow, quarter, date and time) on a flat surface, lift the top film, then place 1 ml of diluted milk in the center of the lower film without touching it with the syringe or fingers.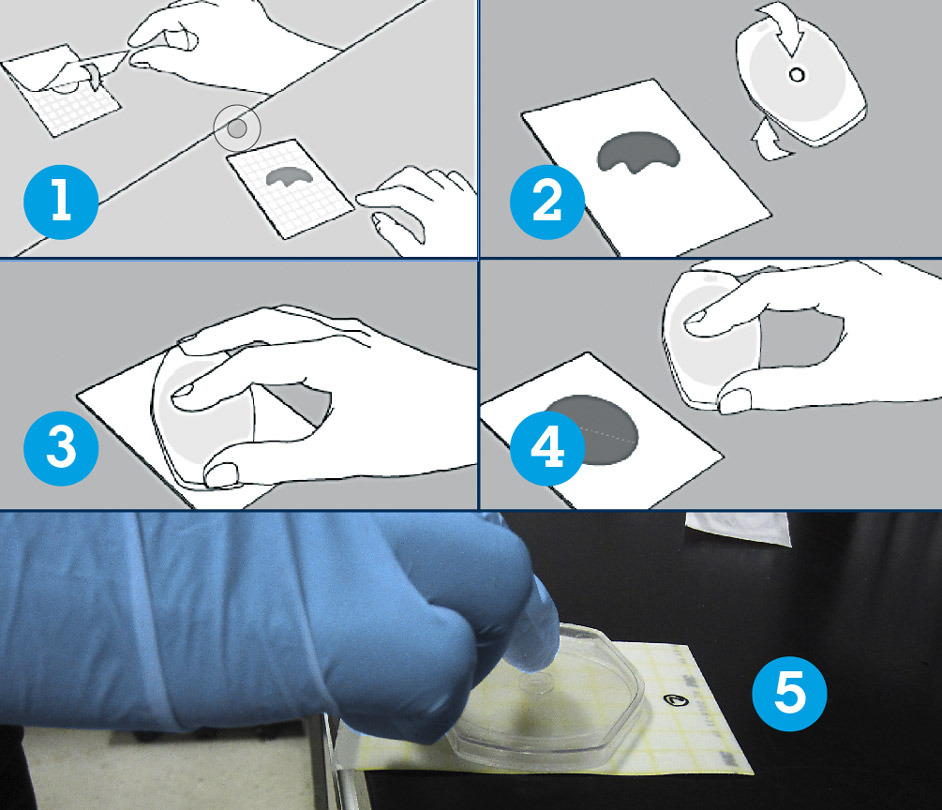 Release the top film. Place the applicator over the top film (circular side down) and lightly apply pressure to spread the sample over the circular area.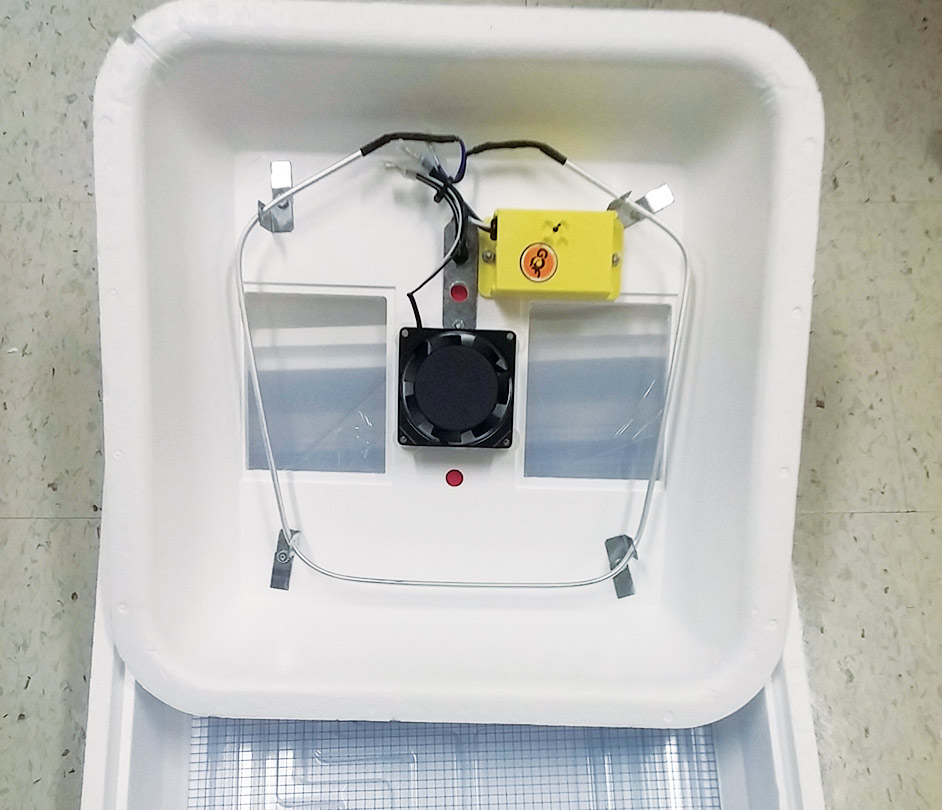 Put the Petrifilm in the incubator at 35 °C (95 °F) for 24 hours. Make sure it contains some water to maintain a slight humidity.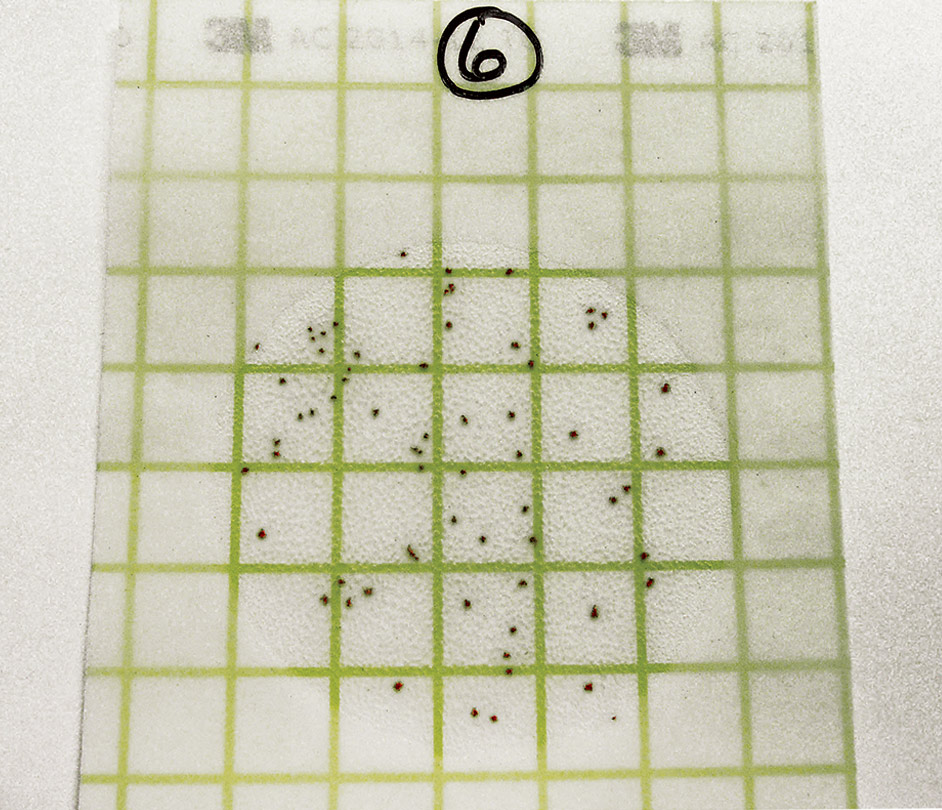 Read the results on the Petrifilm. Each point represents a bacterial colony. Count the entire plate, not just a square. Record the results in your files.